Dusk to Diamonds Reviews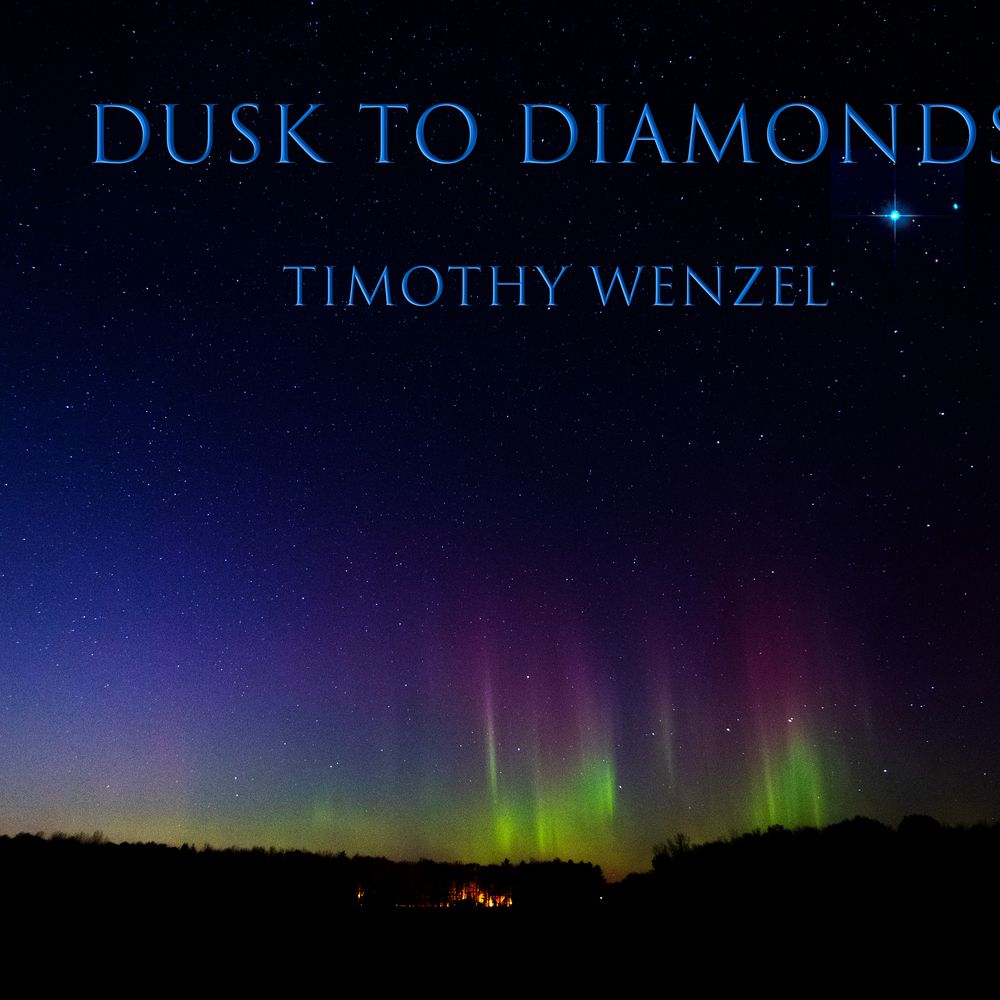 Timothy Wenzel is one those composers that go beyond the boundaries of known genres. His recent album Dusk to Diamonds is a convergence of New Age, contemporary, and cinematic themes that results in an absorbing aural experience. Every one of these dozen tracks has a light, delicate touch that seems to ease into the cracks of the broken spirit and fill them with comfort. When Wenzel plays, the fantastic journey is assured. 
The album opens with the enigmatic cut, Ghost. Inspiration is where you find it, even if it is in an empty room. There is an echoing softness to the tune that suggests an unseen touch, a wisp of a breeze, and a spiny chill. The music appears out of thin air. Violinist Josie Quick and cellist Graham Cullen's string music floats about while the piano plays a memorable refrain. 
The door is ajar. You nudge it and you can imagine the song Opening playing in the scene. No fear. Just a change from the everyday to the fantastic for a short while. Many seem to just look through the crack along the hinges, but those that step through are in for a new world just waiting to be discovered. A mournful horn, breathed into life by Jill Haley greets you inside and says "Welcome". 
The title tune, Dusk to Diamonds, is hands down my favorite on the album. It is the night sky in a time lapsed vignette. Musically, Tim's composition has a lot happening from the arrival of twilight to the onset of those glittering nighttime jewels. The main theme features a gentle cello and hushed chorus. At times this song had a Celtic veil around it and it is appropriate. 
Our Stories is a sorrowful piece with violin and piano weeping together in commiseration. Are they sobbing for our losses? The many souls that have left this earth? Are they crying for our troubled world? The hate, the bigotry, the lack of compassion? I listened to this one with a heavy heart, but I reveled in its sonorous beauty. Our stories have to be told. This is our history. Our chronicle of what the present is like. Wenzel infuses this lament with a Max Richter Blue Notebook feel and I liked it for that. It is emotional music like this that indelibly imprints on the soul. 
Strong piano lead opens on a lavishly orchestrated piece called Enchanted. Someplace deep in a wooded land, elves dance around the fire while magic fills the night. Others fly about on softed wing spreading fairy joy. This is a song of nocturnal celebration. Join in the dance and come alive. 
Another favorite on Dusk to Diamonds is called Dance of the Dead. Tranquilly reverent, this fragile requiem combines the voice of a mysterious sorceress (Vicki Smith) who talks in breathy whispers like the wind in the air; soft, clear, and true and the expressions of The Teenangel Chorus who make an appearance in this one to soothe the lost soul. 
The last tune is called Walking So Sweetly. This is a lighthearted finale to a collection of music that provides true escapism. Wenzel's keyboard aire flows along, neither fast nor slow, but reassuring and hopeful. Sometimes the soul feels so light that the body never touches the ground. This music coveys that rare feeling. The modern day poet Debasish Mridha said "Light is not out there. It is in your heart always ready to show you the path." Perhaps that is why you are Walking So Sweetly. 
Timothy Wenzel has eight other albums that are just as freeing and pleasing. He likes the cold of night, the beauty of nature, and the hidden realm of the fantastic. Every one of his albums are infused with introspective themes and stunning soundscapes. Listening to this album is like buying a ticket to a new & improved tomorrow. I'll take two, please. Highly recommended - R J Lannan, Artisan Music Reviews 
Dusk to Diamonds, the latest release from imaginative composer Timothy Wenzel, opens up a delightful fantasy world in which to escape. The magic in in the night sky and these twelve transporting musical tales open the doors to that secret realm. It's time to get away in new whimsical dreams. - R J Lannan, Artisan Music Reviews
Steve Sheppard

I have long been a fan of the work of Timothy Wenzel, I was Running Away in 2019, I rode with the Distant Horseman in 2016, but it all started with A Coalescence of Dreams back in 2012, and all the musical journeys in between have been sojourns of utter blissful contemporary instrumental music, now we arrive at one of the most beautiful collections of all time with the heart-warming release of Dusk To Diamonds. 
This tale of plenty starts with the opening piece Ghost, a haunting reverie indeed can be found here, and I noted that the more I listened to this track the more I could feel from its delicate, but respectful arrangements, a memorable offering and one bathed in reflective nuances, so tender. 
Listening to a Timothy Wenzel release is like Christmas coming early, as you know each and every track off this 12 track album is going to be just what you always wanted, like the almost folk style song Opening, a redolent energy of less complicated times on sun kissed mountains, could be found here. 
The title track is always one of my most favourite musical moments, it is when we hear the total overview of the album from the artist, and Dusk To Diamonds is a total classic, containing the sublime string work of Graeme Cullen on Cello and Jeff Haynes on percussion, if ever a track stood out as a fine creation in the art of contemporary instrumental music, this is the one you would point to. 
Wenzel's keyboards are his pen and paper, and each musical narrative has been cleverly thought out, much can be said for the sombre and almost classical tones of Our Stories, almost a Pavane of its time, hovering mournful strings and a wonderfully layered back drop of sound. This was one of my personal favourites from the release, and a divine Cello performance by Cullen can be found here too, it must be said. 
Dusk To Diamonds is a journey across the sea of sincerity and love, and when we reach Ask Me To Stay, we find another incredibly moving track that has a nice build and progression, with a wonderfully melodic tapestry to its construction, a gentle performance, but one with a meaningful purpose. 
The string sections on this album, like of Wenzel's other works, are something to be truly admired, listen in-depth to this next offering entitled How Will You Know? You will find a careful beginning, but one that will unfold with a flute sound that is so tender. 
As we step with great care and attention into the second half of the album we come across another personal favourite of mine in Enchanted, this mystical creation has a slight Celtic ethic to it, and a beautiful nature based energy about its construction, one that reminded me in parts of another great American contemporary artist in Holland Phillips. 
Is it, we ask ourselves, time to Dance Forever, the clever percussive backdrop by Haynes added a layered dimension to this crafted offering, one that also contained the magical hands of Jill Haley in the mix, and this symbiotic partnership weaved it's almost sixteenth century spell across my imagination; a wonderful combination of creation and manifestation can be found here. 
A track with a certain purpose is up next and called Awaken Me, at six and a half minutes this would be the longest piece off the release and rightly so, this may well go down as an anthem for the artist, its smooth tones and refrains spin a web of freshness and life across the window of the day ahead, listen also to the rustic vibes created by sublime violinist Josie Quick. 
The mist slowly clears across the pathway to reveal a cemetery long since fallen into decay, barren branches of trees wave in the autumn wind, as we watch the Dance of the Dead. I just keep piling up the favourites, but this one is another stand out for me, and film score standard with ease, the haunting sounds and vocals are amazingly enhanced by the efforts of both Vicki Smith and the Teen Angels, this is a must listen to, leave on repeat composition, one that I shall revisit many times over. 
The curiously entitled Fox and Butterfly is up next, this vibrant yet chilled penultimate offering sits proud as yet another wonderfully manifested slice of classic instrumental music, to date I don't think I have found an album this year, that upon it so many favourite pieces sit, and yes, this is another one. Hats off to Jeff Haynes here, adding a wonderful layer of classy percussion. 
Amazingly we have come to the end of our musical journey with the artist and we end this voyage with one final piece, and that track is entitled Walking So Sweetly, textures of music from ancient times and a gently weaved instrumental moment of utter dedication, Haley is sublime on this track, while Wenzel finishes with an utter top notch performance, bathed in complete honesty and love. 
I had been longing to get my hands on a copy of Dusk to Diamonds by Timothy Wenzel and now I have, I feel I can state on the record that I believe this album to be the best work done so far by the artist. Wenzel has captured the art of composing reflective pieces with such precision on this album, that I believe the journey to its final manifestation may well have been a cathartic one for the artist too. 
Dusk to Diamonds by Timothy Wenzel is a must have album for all lovers of truly good music, as wonderfully created moments of musical reflection can all be found here. - Steve Sheppard One World Music Radio
Kathy Parsons
Dusk To Diamonds is the ninth album from pianist/ keyboardist/ composer Timothy Wenzel and is a collection of twelve stories without words told through the medium of instrumental music. The motivating force behind the album was winter: "All my creative energies come out when I am alone in my warm studio, at night, while the winter blackness outside is particularly uninviting: cold rain, clouds, snow and ice. Sadness, joy, love and dreams also contribute." (quoted from Wenzel's website). Co-produced with Corin Nelsen, guest artists include Graham Cullen (cello), Jill Haley (English horn, oboe), Jeff Haynes (percussion), Josie Quick (violin), Vicki Smith (spoken word) and vocalists Sarah Joerz and The Teenangels. Instrumentation and the styles of music vary from story to story, piece to piece, but overall, the music is thoughtful and peaceful. It is interesting to note that Wenzel composed all of the music, took the album's photographs, and designed and finalized the artwork. Oh, and he also played piano, keyboards and synthesizers! I have thoroughly enjoyed Timothy Wenzel's previous albums, several of which have won awards, but I think Dusk To Diamonds is my favorite so far. 
Dusk To Diamonds begins with "Ghost," one of my favorites. It starts with a sparkling piano pattern that runs through most of the piece. Graham Cullen's cello is especially effective on this one, as is Josie Quick's violin. The title arose from the experience of creating the music very late one night when the melody came quickly and seemed to be channeled from another source - perhaps a deceased composer. It's fascinating to hear the various themes and how they weave together so beautifully! "Opening" is a dreamy trio for piano, violin and English horn. It came about when Wenzel was reminiscing about West Virginia, giving the music Appalachian overtones - very relaxed and peaceful. The title track refers to evenings when Wenzel photographs the sky just as the first stars appear. "The magical moment is when one horizon is still faintly lit while the other is becoming very dark and the stars are shimmering like jewels. Dusk to Diamonds." (quoting Wenzel). Magical and mysterious, it's another favorite. "Our Stories" is more ambient and begins as a mournful duet for cello and violin before the piano enters and makes it a deeply poignant trio. "Enchanted" is a tribute to the the gods and goddesses that wander our world. Piano, oboe, cello and violin create an "enchanting" quartet on this beautiful piece - also a favorite. The title for "Dance of the Dead" sounds a little morbid, but it's another favorite with its dark atmospheric sounds, cello, percussion, keyboards, ethereal vocals and Vicki Smith reciting a poem by Wenzel - haunting and mysterious yet very soothing at the same time. The album comes to a warm and gentle close with "Walking So Sweetly," for piano, keyboard, cello, English horn and violin. 
New music (and artwork) from Timothy Wenzel is always a treat, and Dusk To Diamonds is no exception. It is available from Amazon, Apple Music/ iTunes and streaming sites like Spotify. - Kathy Parsons  Mainly Piano
Dick Metcalf
Daring dreams captured deliciously Timothy Wenzel – DUSK TO DIAMONDS:  An intimately crafted album featuring Timothy's magical keyboards is all about daring dreams captured (ever-so) deliciously… the "force" behind these visions, per the liner notes, is winter… which makes it very fitting that you watch the video below (not from the album) titled "Snow"… 
If you liked what you heard/saw on that video, I (most strongly) recommend that you SUBSCRIBE to Timothy's YouTube channel, where you'll find many more pleasant sonic and visual experiences to enjoy. 
On this new release, Timothy is joined by Graham Cullen on cello, Jill Haley's English horn and oboe, percussion by Jeff Haynes, vocals and harmonies from Sarah Joerz, Josie Quick's violin and Vicki Smith's spoken-word…. their stunning performance on the beautiful "How Will You Know?" gives you clear insights into overcoming the challenges of life… I predict this wonderful song will be getting a LOT of airplay! 
The vocal harmonies on "Dance of the Dead" brings on poignantly powerful visions of night fires full of promises for tomorrow… I particularly enjoyed Vicki's spoken-word on this haunting performance. 
If you're yearning for songs that (literally) shimmer with the magic of night skies, you'll instantly fall in love with the title track, "Dusk To Diamonds"… Graham's cello amplifies the vision, especially when contrasted against the beautiful vocal harmonies! 
After listening through the entire album for the second time, it was easy to make my choice for personal favorite… "Awaken Me" brings the magic of life's eternal song right into your parlor, and will have you waltzing the night away in awe of all that you've been given… I just loved this song, and find myself listening to it over and over again. 
I give Timothy and all his players a MOST HIGHLY RECOMMENDED rating, with an "EQ" (energy quotient) score of 4.99 for this enchanting and sweetly captivating set of performances.  Get more information on Timothy's page for the album.  -  Dick Metcalf   Contemporary Fusion Reviews